Welcome to another edition of Saturday Suds from Shore Craft Beer! This week, our local culinary talent whipped up a delicious batch of chocolate pretzel beer toffee. The finished product contains the perfect balance of salty and sweet that will leave your tastebuds wanting more! This recipe is relatively easy to make, and once you're done, it's easy to divvy up and give to your family and friends. Or, if you're like me, you can just cut it up and save it for yourself!
This week's recipe comes to us once again via the great website popsugar.com and was originally made by the beeroneness. The link to the recipe is in the title, and please let us know if you make it and how it goes!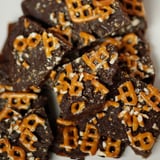 INGREDIENTS
One cup sugar
1 cup butter
1 cup amber ale, divided (we used Burley Oak's Habitual)
2 cups Ghirardelli semi-sweet chocolate chips
2 cups pretzels, smashed
DIRECTIONS
Into a large pot over high heat, add the sugar, the butter and 1/2 cup of the Burley Oak Habitual beer. Stir until the mixture begins to boil. Leave the mixture untouched until it starts to darken and thicken. Continuously stir the sugar & beer mixture until it reaches 290ºF. This process ultimately could take between 15 and 20 minutes. Once the mixture is extremely dark and reaches 290ºF, pour it onto a quarter baking sheet (lined with parchment paper), and allow to cool. This is the first layer of the toffee.
Into a large bowl, add the chocolate. Heat the remaining beer in a saucepan over medium heat until it just starts to simmer. Pour the beer over the chocolate and stir this mixture until it's smooth, and all of the chocolate is melted. Pour the melted chocolate over the toffee, and garnish with crushed pretzels. Allow the chocolate to set.
Cut the final product (preferably with a bench scraper) into 2-inch squares.

Habitual
According to the Beer Advocate's website, "this juicy pale ale was double dry hopped with Summer and Rakau hops that lend a generous amount of bright fruity aromas including citrus, stone fruit, and pine." From my own personal experience it is light, delicious, and it integrates so well into this recipe for chocolate beer pretzel toffee.
This recipe ultimately yields 6 servings, though you can certainly break the finished product up into more servings if you desire.
In addition, this is a quick and easy recipe to make, and the total amount of time it takes is about 25 minutes.
Did you try to make this recipe? Let us know how it turned out in the comments below!